Description
Sanitizer for exterior surfaces of boats used for passenger accommodation. Specific for hard surfaces, including steel, PureDeck works on any outdoor material without damaging it. PureDeck stops mold growth on wood, degreases and restores non-slip areas. Ideal for fiberglass, teak, steel, glass. Especially good for removing residues of sunscreen creams and oils. Excellent for removing bad odors from drainage bilges where water and organic residues accumulate. Simply leave on for three minutes and rinse. No brushing or sweeping is required. It cuts cleaning time in half.
PureDeck is eco-friendly. PureDeck DOES NOT CONTAIN formaldehyde, enzymes, chlorine, substances harmful to humans and the environment.
GREEN ANTIFOAM AND HIGHLY BIODEGRADABLE PRODUCT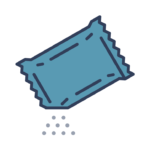 THE PACKAGE CONTAINS:
10 refills of 20 gr
1 refill is equivalent to 5 liters of odor-eliminating sanitizer!
METHOD OF USE
Dilute one sachet in 5 liters of water from a manual/automatic pump and spray on the surfaces to be treated. Allow the product to work for at least 3 minutes for best results. Rinse the surface to remove any residue of the product.
DO NOT open the sachets; they are water-soluble.
PRODUCT CODE: IGU002