Description
Bathroom sanitizer, suitable for all surfaces, faucets, ceramics, marble, sanitary ware, plexiglass, resin, wood, parquet. Also recommended for cleaning mirrors, as well as shower glass, where limescale is most likely to form. PureWave is a unique product for its innovative formulation with cleaning effect, specifically for daily cleaning of toilets on board vessels. Used daily, PureWave prevents limescale buildup. The product does not leave halos. PureWave contains a pleasant hypoallergenic fragrance and leaves a pleasant clean smell.
PureWave is eco-friendly. Simply leave on for three minutes and rinse. It cuts cleaning time in half. DOES NOT CONTAIN formaldehyde, enzymes, chlorine, substances harmful to humans and the environment.
FRAGRANCE: BLOSSOM
CONTROLLED-FOAM GREEN PRODUCT THAT IS HIGHLY BIODEGRADABLE.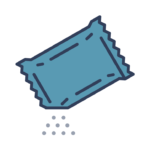 THE PACKAGE CONTAINS:
20 refills of 5 gr.
1 refill is equivalent to 1 liter of sanitizer!
METHOD OF USE.
Dilute one sachet in 1 L of water, shake and spray on the surfaces to be treated.
Allow the product to work for at least 3 minutes for best results.
Rinse the surface.
DO NOT open the sachets; they are water-soluble.
PRODUCT CODE: IGM003