Description
Odor eliminator for wastewater. It acts in a very short time by breaking down organic materials and eliminating any bad odor from toilet black water. SaniWaste has the ability to promote the breakdown of organic material by assisting the natural biological mechanisms that allow fermentation and breakdown, eliminating odors.
SaniWaste is eco-friendly. DOES NOT CONTAIN formaldehyde, enzymes, chlorine, substances harmful to humans and the environment.
GREEN ANTIFOAM AND HIGHLY BIODEGRADABLE PRODUCT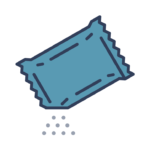 THE PACKAGE CONTAINS:
18 refills of 30 gr + 4 in GIFT
1 refill covers up to 100 liters of wastewater!
METHOD OF USE.
A 30-gram sachet covers up to 100 liters of effluent. Throw the sachet directly inside the toilet.
Wait for the sachet to open (about 5-6 seconds) and immediately drain the water. The product will remove odors from the sewage pipes and the black water tank.
Do not open the sachets; they are water-soluble.
PRODUCT CODE: IGP006