Description
Organic powder detergent for hand and machine washing composed of a blend of highly dermocompatible coconut-derived surfactants. Contains plant extracts, raw materials and additives of natural origin from organic farming. Washer is eco-friendly.
DOES NOT CONTAIN formaldehyde, enzymes, chlorine, substances harmful to humans and the environment.
HIGHLY BIODEGRADABLE GREEN PRODUCT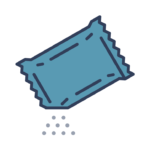 THE PACKAGE CONTAINS:
20 refills of 30 gr.
1 refill washes up to
5 kg
of laundry!
METHOD OF USE.
Follow the dosage indicated for washing.
Up to 5 kg of dry laundry: 1 sachet
Up to 10 lg of dry laundry: 2 sachets
*Doses may vary depending on the cycle and type of dirt.
DO NOT open the sachets; they are water-soluble.
PRODUCT CODE: IGN02