Description
Freshwater tank sanitizer that eliminates all bad odors and rids clean water tanks of any algae, mucilage. SaniTank is eco-friendly. DOES NOT CONTAIN formaldehyde, enzymes, chlorine, substances harmful to humans and the environment.
SaniTank won Honorable Mention at the Design Innovation Award at the 61st Genoa Boat Show.
HIGHLY BIODEGRADABLE GREEN PRODUCT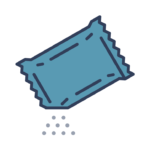 THE PACKAGE CONTAINS:
10 refills of 15 g
1 refill covers up to 150 liters of water to clean the tank!
MODE OF USE
One 15 g sachet works up to a maximum of 150 lt of water. Insert a sachet into the full tank and leave for at least 15 minutes. Then drain the tank completely by opening all taps. At this point, the tank will be clean and sanitized without any bad smell, ready to be filled with potable water.
DO NOT open the sachets; they are water-soluble.
PRODUCT CODE: IGQ007