Description
Eliminates odors for tanks, pipelines and waste pumps. It acts in a very short time. Due to its formulation, it eliminates any bad odor by fermentation of organic compounds from kitchen and bathroom drains (sinks, bidets, showers, and toilets). SaniGrey breaks down organic deposits in pipes. Since it is non-corrosive, it protects and makes pipes live longer. In addition, it does not attack glues and welds, helping to delay maintenance work on a boat.
SaniGrey is eco-friendly. DOES NOT CONTAIN formaldehyde, enzymes, chlorine, substances harmful to humans and the environment.
GREEN ANTIFOAM AND HIGHLY BIODEGRADABLE PRODUCT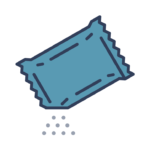 THE PACKAGE CONTAINS:
16 30 gr refills + 3 in GIFT
1 refill covers up to 100 liters of water!
METHOD OF USE.
A 30-gram sachet works up to a maximum of 100 lt of water.
Place the sachet directly on the shower/sink/bidet pan and let the water run until the sachet is completely dissolved.
DO NOT open the sachets; they are water-soluble.
PRODUCT CODE: IGO005